Sale!
StairSlide – Indoor Slide For Stairs
Description
No permanent installation required
Can be nested extension distance
Not easy to wear and damage
High strength and durability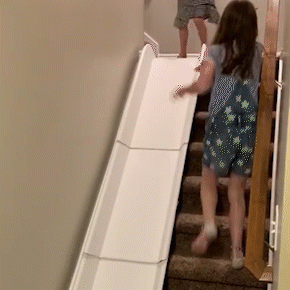 Semi-permanent children's slides are safer than using sleeping bags, cardboard boxes or worse!
Custom installation
The slide can be safely fixed on your stairs without permanent fixing or installation.
If it moves a little, just reposition it on the stairs to ensure safety.
Nested extension distance
Nested on top of other parts so that they can extend to cover more stairs. One or nine, it depends on you.
Not easy to wear and damage
Use a high-density rubber strip placed below, which has the most contact with the tread of the stairs. Its high friction coefficient design helps prevent the product from moving during use.
High strength and durability
High-strength plastics can withstand frequent use and provide the most powerful solution for long-term use.
Lightweight
It can be easily adjusted or repositioned on the stairs. The unique nesting design allows you to easily store it after your child has finished playing.
Recommendations
1.Not all stairs are the same, start with the number of stairs you want to cover, then divide by three (rounded up, of course), because a stair slide can cover about three stairs!
2.We recommend placing the bottom of the product on the first step above the ground so that your child can go downstairs on the ground.
Product specifications
Size: (Length x Width x Seat) 43 inches x 20 inches x 14 inches
Weight: 5 pounds (one)
Color: White